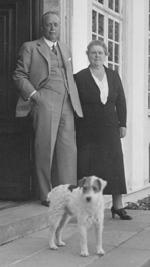 Two foundations – Harald Jeansson (1881-1964) was a shipowner and belonged to the family Jeansson that for a long time played an essential role in the trade and industry of Kalmar.
In a donation letter from 1947 and 1959 he established a foundation for medical research named Harald and Greta Jeansson Foundation. Another foundation with the same aim was established later in 1965, Harald Jeansson Foundation. The board of the two foundations, with representatives from the Karolinska Institutet and Stockholm University, establishes regulations and choose new members to the board.
The chairman of the two foundations is Jur.kand. Mats Bendrik. Scientific medical advisers are professor Anita Aperia, Karolinska Institutet and professor Anna-Lena Spetz, Stockholms Universitet.
Support to medical research
According to the regulations of the foundations should the yield of the financial accesses, after covering administration, be used to "support scientific research in the field of medicine or other disciplines that are conducting research that benefits medicine".
The board has decided for the time being to preferably distribute startup grants of 500,000 SEK to young researchers that after postdoctoral studies or similar are establishing their own research group. The applicant should have a position connected to a university or institute.
In total 4-7 miljons SEK per year are provided to medical research.